22 x 22 Gable Garage w/ Contemporary Overhang & 6/12 Roof: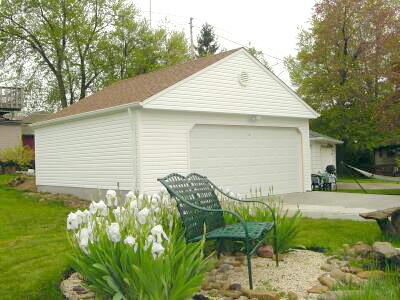 The absence of windows takes nothing away from the look of this garage. Keeping valuable wood working tools and expensive wood out of site from unwanted neighbors was important to this concerned homeowner. Accented with its working octagon vent keeps moisture down and temperature lower.
20 x 20 Gable Garage w/ Cottage Overhang and 4/12 Roof: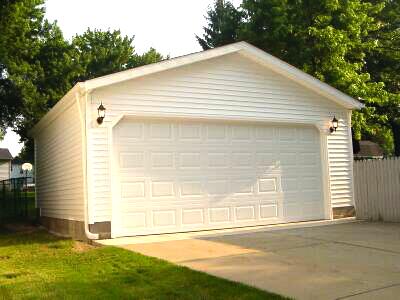 Clean lines, and all white with a cottage overhang and black coach lights gives this garage its elegant appeal. 16' x 7' overhead door for 2 cars to park comfortably and 60-sq. ft. of floor storage make this building the
smallest of the popular 2-½ car garage.
22 x 22 Gable Garage w 5/12 pitch & Contemporary Overhang: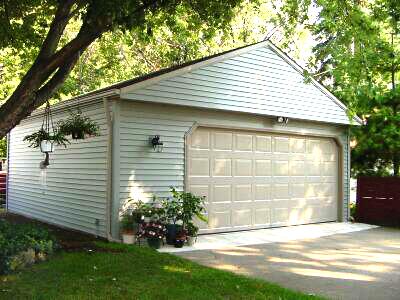 Lots of plants, flowers and trees go well with the soft colors of this garage in the warm summer months. 484 square feet are ample room for some of the most ambitious gardeners. Single carriage light with dusk to dawn provides nice security lighting.
Now is the best time to start planning for your beautiful new garage.
Click here to learn more or receive your free estimate.

******************************************************
Need Bank Financing?
• Rates as Low as 3% Below Market and up to a 10 Year Fixed Rate
• No Closing Cost
• Both Secured and Unsecured Options Available
• Same Day Customer Service
• No Banking Relationship Required
• Call for the Current Rate
******************************************************
Call now at 440-230-9900 for your FREE Information Packet including "The Seven Little Known Secrets to Successfully Choosing a Contractor" and "All Garages Builders Are Not The Same".