20 x 22 Gable Garage w/6/12 pitch & Cottage Overhang & Cupola :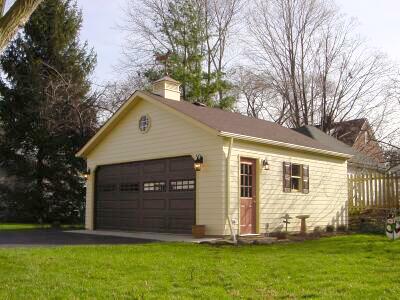 This garage is loaded with charm. Octagon window in gable, shutters, 9-lite service door, carriage lamps and finally topped off with a beautiful cupola and brass dachshund to honor the family pet. But don't let its quaint look fool you. With 440 sq. ft. of floor space and 160 sq. ft. of loft area this garage has plenty of work space to get the job done.


30 x 40 Gable Garage w/Side Overhead Door: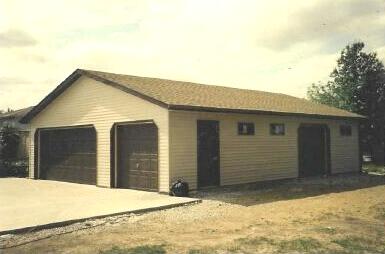 1200 square feet is a lot of room. Imagine your hobby in a garage like this. Perfect for auto mechanics, woodworking or maybe a small business. After all, companies like Apple computers, Walt Disney, even Henry Ford all had their humble beginnings in a garage. All you add, is the ambition.


36 X 24 Reverse Gable Victorian Style Garage w/Walk Up Attic: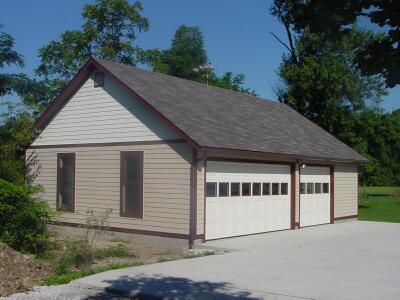 Scallop roof shingles, large windows, wide trim molding and copper weather vein make this Victorian style garage as nice to look at, as it is to work in. With 864 square feet down, plus an additional 400 square feet upstairs, this garage is ideal for any type of hobby; from furniture repair or antiques, to model airplanes and cars. The skies the limit!
Now is the best time to start planning for your beautiful new garage.
Click here to learn more or receive your free estimate.

******************************************************
Need Bank Financing?
• Rates as Low as 3% Below Market and up to a 10 Year Fixed Rate
• No Closing Cost
• Both Secured and Unsecured Options Available
• Same Day Customer Service
• No Banking Relationship Required
• Call for the Current Rate
******************************************************
Call now at 440-230-9900 for your FREE Information Packet including "The Seven Little Known Secrets to Successfully Choosing a Contractor" and "All Garages Builders Are Not The Same".